The justice department lawsuits blocking two mergers that would have dramatically consolidated the market signal tougher stance on antitrust concerns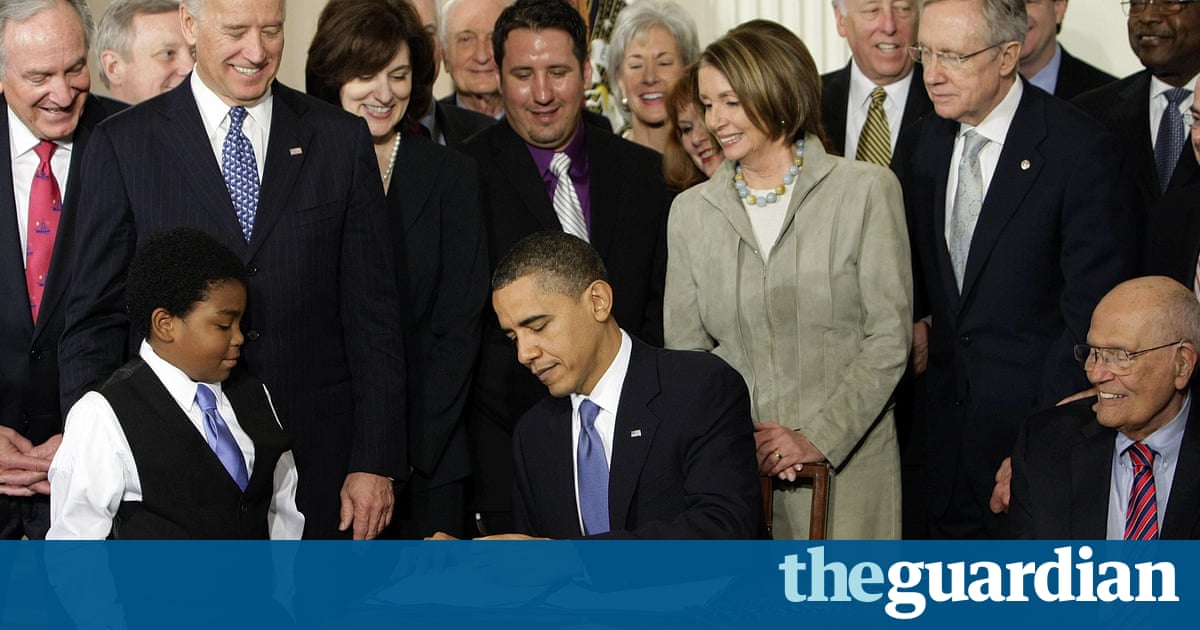 When Barack Obama passed his signature healthcare law in 2010, one of its aims was to encourage competition among insurers. The insurers reacted by snapping each other up. Last summer four of the five biggest health insurers announced mergers, cutting their number to three. Now the Obama administration has cried halt.
On Thursday the justice department filed lawsuits to block two mergers that would have dramatically consolidated the health insurance market. These mergers would restrict competition for health insurance products sold in markets across the country and would give tremendous power over the nations health insurance industry to just three large companies, attorney general Loretta Lynch said announcing the decision.
Our actions seek to preserve competition that keeps premiums down and drives insurers to collaborate with doctors and hospitals to provide better healthcare for all Americans.
Both Aetna, which was set to acquire Cigna and Anthem which was set to acquire Humana, have said they will appeal the ruling. But experts believe their chances are slim at least as long as there is a Democrat in the White House.
The decision by the justice department comes at a time when it has signaled that it will take a tougher stance on antitrust concerns, says Jeffrey Spigel, head of the Antitrust Practice Group at King & Spalding. Under the Obama administration, both the justice department and the Federal Trade Commission have shown more willingness to litigate antitrust cases when past administrations have opted to settle, Spigel said.
A number of other multibillion dollar deals have been blocked in recent years by the justice department , including the proposed merger of wireless companies AT&T and T-Mobile in 2011 and the proposed merger of oil field services providers Halliburton and Baker Hughes this year.
The latest round of mega mergers in the insurance industry comes on the heels of waves of consolidation that have left only five major national insurers. The mergers would have combined four of those insurers into two companies, leaving only three dominant insurance companies in the US. Anthem and Cigna would have consolidated the large employer market while Aetna and Humana would have had a leading position in the private Medicare Advantage market.
Health insurance companies have long held that mergers are needed for scale in order to remain competitive. Anthem expected to realize around $2bn in synergies from its combination with Cigna, while Aetna had projected around $1.25bn in savings for its deal with Humana.
But the deals angered many in Congress. During a regulator testimony, Anthem and Aetna refused to identify a dime of supposed savings from these mergers that would be passed on to the consumers, said Carmen Balber, executive director at Consumer Watchdog, a consumer advocacy organization.
Premiums have gone up and benefits gone down from previous insurance mergers, explained Balber, adding that the two proposed mergers would have led to higher prices, worse benefits and more difficulty getting benefits for consumers. It is a great sign that the Department of Justice blocked the deals, Balber added.
Aetna and Humana argue that the combination of the two companies would be more efficient and effective, which would decrease cost for members. The two companies said in a joint statement that they have plans to vigorously defend the companies pending merger. Anthem is challenging the justice departments understanding of the insurance market, putting out a statement saying that the DoJs action is based on a flawed analysis and misunderstanding of the dynamic, competitive and highly regulated healthcare landscape and is inconsistent with the way that the DoJ has reviewed past healthcare transactions. Cigna for its part has taken a more muted tone, advising investors the deal is no longer projected to close this year, if at all.
Overturning the ruling on appeal will be difficult, Spigel predicts. During antitrust merger reviews, companies work to identify potential divestitures in areas of problematic overlap as a compromise. While Anthem has said it will remain receptive to any efforts to reach a settlement with the DoJ that will allow us to complete the transaction, neither of the two proposed mergers were able to provide enough divestitures to satisfy regulators. One issue with divestitures is finding buyers that would not be problematic in such a consolidated market, explained Spigel. Allowing the two mergers to go forward would also make it more difficult for new insurers to enter a market, further hindering future competition, said Balber.
The action by the justice department signals that the health insurance market has become so concentrated it is unlikely that any further large scale deals can be done. At least under this administration, says Spigel, adding with a laugh, who knows what will happen if Trump is elected.
Read more: https://www.theguardian.com/business/2016/jul/24/health-insurance-mergers-lawsuit-antitrust-concerns