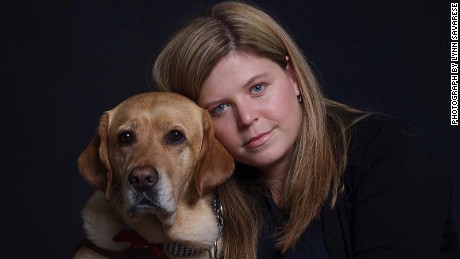 (CNN)You might think that when a trafficking victim escapes, their life is saved. In reality, though, survival is much more complicated.
My journey of survival began nearly 20 years ago, and continues to this day.
It is marked by hurdles, as well as by surprising gifts like losing my sight, discovering art and receiving life-changing, holistic, trauma-informed care. It has also been marked by our nation's failure to call trafficking what it is: a public health problem.
Road to recovery
Just last week, the State Department released the Trafficking in Persons (TIP) report, which ranks countries based on whether and how well they are addressing modern slavery. While now is a prime time to talk about the survivor's journey to recover from the horror of being held captive physically and emotionally, this key issue will likely be left out of most conversations.
Instead, most discussions will focus on law enforcement issues like how well countries, including the United States, track down and prosecute traffickers, and how to use threat of prosecution as a deterrent.
I, along with other trafficking survivors and health care professionals, have been part of a national technical working group advising HHS on the training content, and I am hopeful about this public health-focused approach to stopping and preventing trafficking. At the same time, I know the program will have limited impact unless our policymakers prioritize and commit resources to take this program to scale.
Looking at trafficking through a public health lens could also help health practitioners and policy makers recognize the critical need to invest in long-term, trauma-informed care for survivors.
Today, funding shortfalls mean that hundreds if not thousands of trafficking victims in the United States must wait to receive basic emergency services like a bed, health care and psychological support that are so immediately important. And most who do receive emergency services are left without the long-term care and support they desperately need.
'Victims can thrive'
Every survivor should have access to trauma informed care, but trained professionals and funding for such services are scarce, and many survivors – particularly those living in small towns and rural areas where healthcare services are generally less available – often don't even receive basic services.
When survivors do get proper treatment, as I have, they will have a chance to live fulfilling, productive lives. Without it, the possible consequences are dire.
Today, I am an artist, a public speaker and an anti-trafficking advocate. I am living proof that victims can thrive — but only if they receive the care they need and deserve. As a country that gives itself the TIP report's highest ranking, the United States must admit that it can and should do more to prevent human trafficking and support trafficking survivors with long-term, holistic trauma informed care. The first step is recognizing trafficking as a public health issue.
Read more: http://www.cnn.com/2016/07/11/opinions/human-trafficking-health-margeaux-gray/index.html