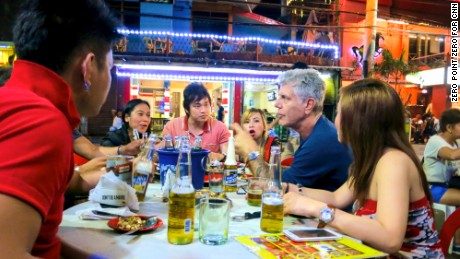 (CNN)Tagalog, the language of the Philippines, is not an uncommon thing to hear in my household.
Like many children all over the world, my daughter arrived home from the hospital to find a Filipino baby nurse.
Vangie was with her from the very beginning of her life, and in time, my daughter came to know her son, her daughter-in law, their kid — and in time, an extended family and friends — in New Jersey, Southern California and the Bay Area.
And of course, most importantly, Jacques, Vangie's grandson, her best friend, from whom she has been inseparable since infancy — her older brother in every way but biological. Partners in crime.
If I go back through old photos today, at least half will be of the two of them together.
There was one other bit of business I had to investigate.
For years now, in hotel bars in Chiang Mai, in lobbies in Singapore, cocktail lounges in Colombo and Kuala Lumpur and Hong Kong, wherever I go, I find a Filipino cover band able, on request, to play "Dark Side of the Moon" note for note — before moving on to Happy Birthday (in English, German or Cantonese), Patsy Cline, Celine Dion — and then "Welcome to the Jungle."
I had to know more.
Where do they all come from?
I hope the overseas Filipinos and our fans in the Philippines like this episode more than they liked the last one on our other show. This is certainly not the definitive show on the Philippines — and it will not be our last show there.
I imagine this time around there will be tears. At least I hope so.
We tried to do right by people who've been very, very good to us.
Read more: http://www.cnn.com/2016/04/22/travel/anthony-bourdain-parts-unknown-manila-essay/index.html