The longtime Obamacare critic slammed the current system but did not provide details on what a replacement might look like under Trump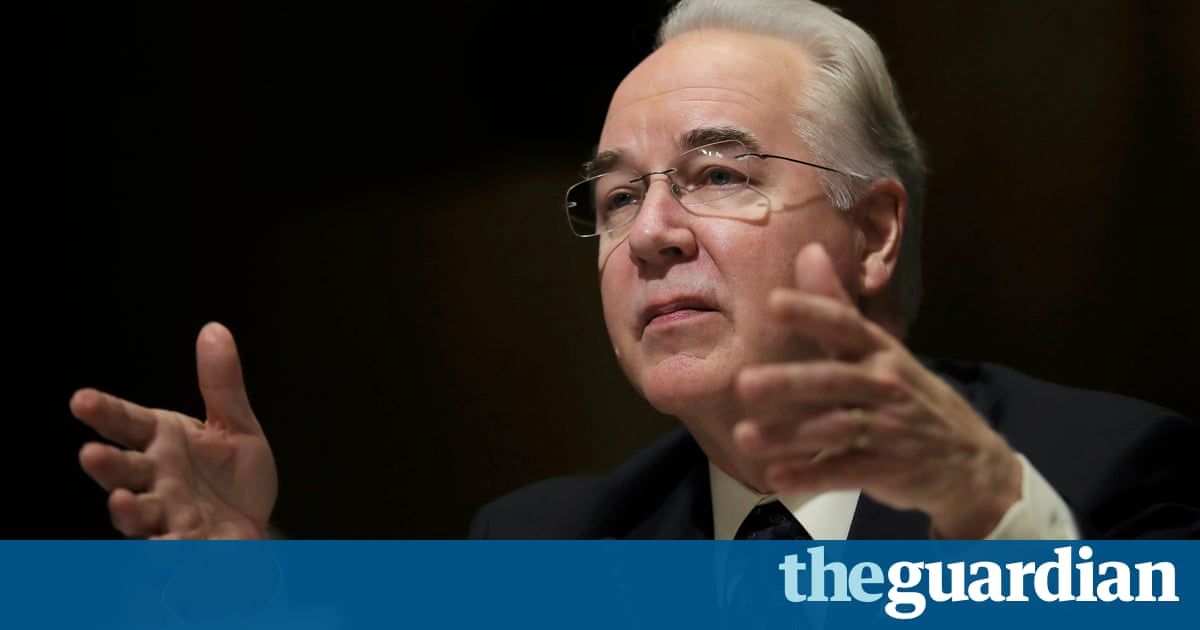 Tom Price
Health and human services secretary
Background
Representative Tom Price has spent his political career as a penny-pinching, ideologically driven physician who has rarely crossed party lines on key votes. He is one of Donald Trumps most controversial cabinet picks, because of his hardline stances against abortion, same-sex marriage and the Affordable Care Act (ACA, also known as Obamacare). The medical community is split on Prices appointment.
Before his career in politics, Price was an orthopedic surgeon in a well-heeled suburb north of Atlanta, Georgia. His wife, Betty, also a doctor, serves as a Republican member of the Georgia house of representatives.
If confirmed, Price would head the sprawling $1.1tn Department of Health and Human Services, overseeing everything from food safety to epidemic crisis management. He would also be in charge of administering the countrys largest public insurance programs, which he has spent his career attempting to downsize.
This is Prices second hearing, and its the one that matters. Appearing before the finance committee, which holds the power to approve his nomination, Price was diplomatic and respectful, without revealing much about his views or what the new administrations healthcare plans will look like.
Key points and takeaways
Obamacare repeal plan: Price helped author Republicans most comprehensive ACA replacement plans, and Democrats will look for clues about what Republicans new plan will include (as well as its weaknesses).
A term that will likely be heard again and again is access. Where Democrats strived for all Americans to have insurance, Republican alternatives have strived for all Americans to have access to coverage. In other words, Republicans want people to have the option, but not the requirement, to buy insurance.
That imperils many of the ACAs most popular provisions, such as a guarantee that young adults can stay on their parents insurance until they are 26 years old, or a requirement that insurance be sold to people even if they have had previous illnesses.
Trump has also contradicted his nominee, promising insurance for everybody in an interview with the Washington Post.
During Tuesdays hearing, Senate Democrats repeatedly pressed Price on what the replacement plan for Obamacare would look like under Trump, but he declined to provide any specifics. Ohio senator Sherrod Brown asked if it was true that Price and Trump were working together on a plan, to be revealed after Prices confirmation. Its true that he said that, yes, Price said, to laughs from the room. After Brown asked if Trump lied, Price said, I have had conversations with the president about healthcare, yes.
Price, a longtime ACA critic, slammed the current healthcare system. Many individuals have coverage, they have a card, but they dont have any care … Its imperative we have a system that is accessible for every American, affordable for every American, he said, without providing any additional detail on what that might look like.
Stocks, docs and devices: In his first hearing, Price was pressed on his purchase of health stocks while he was a leading voice on health policy in the House of Representatives, and the subject is likely to come up again.
His most notable purchase was for an Australian company called Innate Immunotherapeutics, where he bought between $50,000 and $100,000 of stock at a discount(it is now worth around $500,000). The company holds no patents, but has one drug in development to treat an advanced form of multiple sclerosis. Its largest investor is the New York Republican congressman Chris Collins, who was part of Trumps transition team, and other investors are connected to Collins. The deal occurred during negotiations on the 21st Century Cures Act.
The former surgeon has advocated on behalf of laws that benefit doctors, including limits on medical malpractice suits.
Prices other investments include $15,000 of stock in Zimmer Biomet, a producer of joint replacement devices. It was purchased less than a week before he introduced the HIP Act, which would have delayed reforms that would have cost the device company money, though the legislation died in committee. An aide told CNN that Price was unaware of the transaction because a broker managed his account.
During Tuesdays hearing, Democratic senator Ron Wyden quizzed Price repeatedly on his Immunotherapeutics stocks, asking him if his purchases of stocks while sitting on committees responsible for healthcare policy shows bad judgment. Price responded that everything I did was above board, ethical, legal and transparent, noting that there wasnt any maliciousness involved in saying his stocks were worth between $50,000 and $100,000 when in reality they are worth nearly half a million dollars, as I thought it meant the time at which I purchased the stock.
Republicans jumped in to defend Prices financial investments. Senator Richard Burr of North Carolina noted that he believed the nominee made his financial disclosures public as asked and yet was getting criticized by the Democrats: Does it burn you that they want to hold you to a different standard? he asked. Price replied: We know whats going on here. And I understand. And as my wife tells me, I volunteered for this.
Read more: https://www.theguardian.com/us-news/2017/jan/24/tom-price-confirmation-hearing-live-key-points