California gas companys own samples from Porter Ranch community contained at least twice the amount of benzene that air regulators consider normal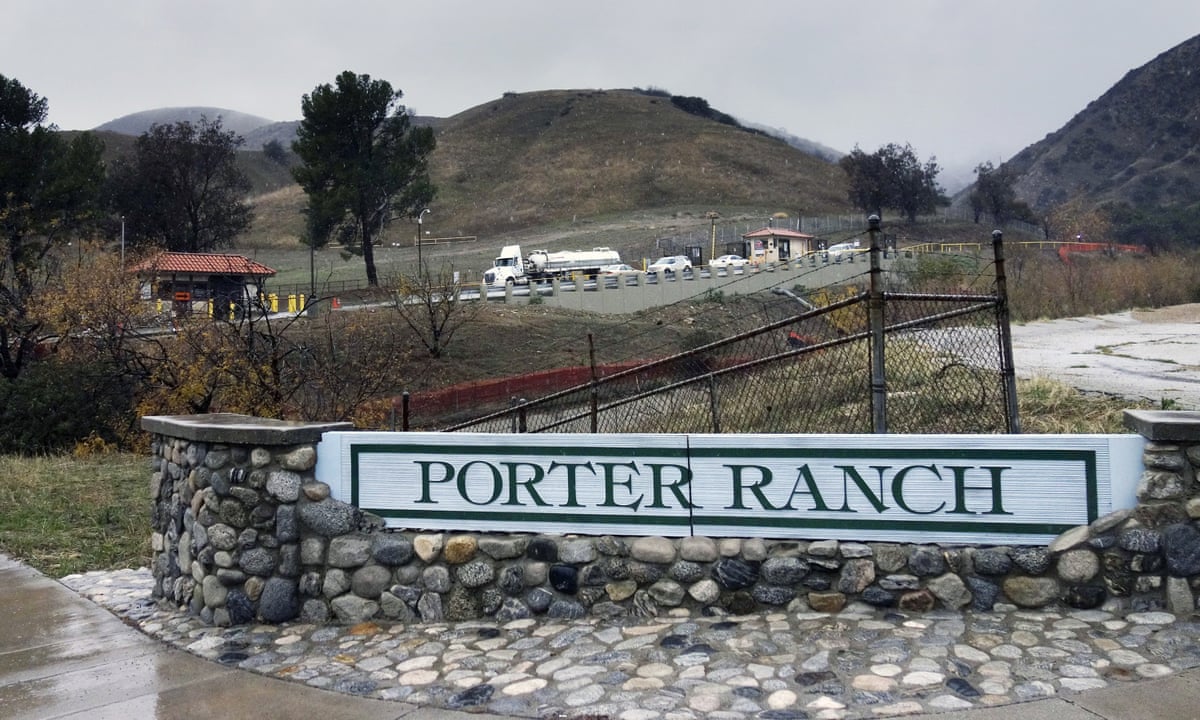 The utility whose leaking natural gas well has driven thousands of Los Angeles residents from their homes has publicly understated the number of times airborne levels of the cancer-causing chemical benzene have spiked over the past three months, the companys own data suggests.
In trying to reassure the public that there is no long-term health risk from the leak, Southern California Gas Co has said in news releases and FAQs on its website that since the crisis began, just two air samples briefly showed elevated concentrations of the substance.
But a closer look at the online data by the Associated Press and outside experts shows that a dozen samples from the Porter Ranch community contained at least twice the amount of benzene that southern California air regulators consider the normal background level.
The possible reason for the discrepancy: SoCalGas apparently uses a different background level.
The company was given repeated opportunities to explain its conclusions but could not.
I dont know what would explain it, spokeswoman Melissa Bailey said.
Public health officials have sided with SoCalGas in saying they do not expect any long-term health problems, but some outside experts say the data is too scant to say that with any certainty. For one thing, it is unclear whether the benzene persisted long enough to exceed state exposure limits.
Seth Shonkoff, executive director of the energy science and policy institute at University of California, Berkeley, said he was surprised officials were so quick to discount the health risks.
I have not seen anything convincing that its been proven to be safe, Shonkoff said. Im not going on record as saying this is absolutely an unsafe situation; Im saying there are a number of red flags.
The leak at the biggest natural gas storage facility west of the Mississippi river was reported on 23 October. The cause is unknown, but the leak has spewed huge amounts of methane, a potent greenhouse gas, and occasionally blanketed neighborhoods about a mile away with a sickening rotten-egg odor.
SoCalGas has run up more than $50m in costs so far in trying to contain the leak and relocate families. Governor Jerry Brown has declared an emergency, and some environmentalists are calling it the worst environmental disaster since the BP oil spill in the Gulf of Mexico in 2010.
Health officials and SoCalGas have said most of the gas has dissipated, though the odor from the chemical additive that makes the gas detectable is blamed for nausea, headaches and nosebleeds.
Natural gas also contains smaller amounts of other compounds, such as benzene, which is of greatest concern because it causes cancer as well as anemia and other blood disorders.
In the Los Angeles area, benzene is typically detected in minuscule levels between 0.1 and 0.5 parts per billion (ppb), according to the South Coast Air Quality Management District. But SoCalGas says on its website that typical community levels are 2ppb.
Apparently relying on that standard, SoCalGas said that benzene was found in amounts slightly higher than background levels in just two samples, both on 10 November, and returned to normal the next day. The suspect readings were 5.6ppb in one gated development near the facility and 3.7ppb in the Porter Ranch Estates neighborhood of 1,100 homes.
However, a more detailed look at the data shows 10 other instances over seven days in November when benzene exceeded 1ppb. The clean-air agency also detected a reading of 3ppb on 26 October.
Dr Cyrus Rangan, a medical toxicologist from the Los Angeles County department of public health, said the gas companys website was incorrect.
Dont take cues from the gas company website of where the monitoring is and what the health risk is, Rangan said.
Read more: http://www.theguardian.com/environment/2016/jan/14/la-natural-gas-leak-methane-benzene-health-risks-california-gas