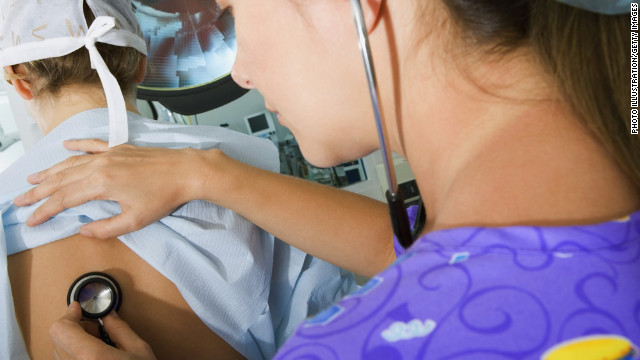 (CNN)Recently Illinois prosecutors charged a mother and father with endangering the life of a child after their 11-year-old son died following a heart transplant. Authorities allege the parents missed medical appointments and failed to administer anti-rejection medication.
While the courts will determine whether the parents' behavior was criminal, their behavior –missed appointments, failure to provide medications and lack of follow-through on medical recommendations — can also be
signs
of low health literacy.
So what can be done to fix the problem?
Asking patients about current and past medical history is a standard part of a medical visit. Health literacy needs to become a routine part of this evaluation. The
Newest Vital Sign
is a short screening easily incorporated into medical practices toidentify patients with literacy issues proactively. But across all patients, up to
80%
of spoken medical information is immediately forgotten, making the need for patients to explain health information back to a provider a critical key to ensure understanding.
In an ongoing study of 448 physical therapists, my colleagues Drs. Alice Salzman and Marjorie Johnson Hilliard in the Department of Physical Therapy at Northwestern University, have
surveyed
the health literacy knowledge and practices of physical therapists nationwide. They found only 5% knew how to administer health literacy assessment tools that test a person's health literacy and only 2% used established methods to evaluate the reading level of patient education materials.
Certainly, there are patients with proficient health literacy who do not adhere with treatment recommendations. But with only
12%
of the US population possessing proficient health literacy, providers and health systems must address this hidden contributor to poor patient outcomes.
To be sure,
shame
prevents some patients from voicing a lack of understanding to their health care provider. That is even more reason why assessing health literacy needs to be a routine part of every medical encounter to destigmatize illiteracy and offer patients the support and services they need.
Currently, the
Affordable Care Act
provides direct and indirect provisions to improve health care quality for people with low health literacy. The
Public Health Service Act
provides training grants for medical specialties to enhance communication and health literacy, and the
Readmissions Reduction Program
incentivizes efforts to ensure patient understanding to reduce preventable hospital readmissions.
The future of the Affordable Care Act remains uncertain, and President Donald Trump is focused on a
prompt repeal
. But what cannot be repealed are initiatives that help individuals access and understand information to manage their health. We need more efforts by government to help patients improve their health literacy, not less.
Read more: http://www.cnn.com/2017/03/03/opinions/health-illiteracy-can-be-deadly-danilovich/index.html