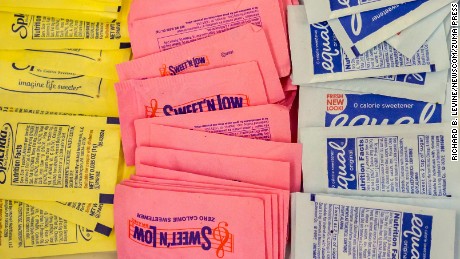 (CNN)Sugar — how can something so good be bad for us?
Actually, it's not, if you keep to the newest dietary guidelines recently announced by the USDA: only 10 teaspoons of sugar a day for the average person. Unfortunately, that equals just one 16-ounce bottle of regular soda.
Most Americans eat much more sugar than that — more like 30 to 40 teaspoons a day — and we've learned just how unhealthy that can be. Abundant added sugar is now linked to a host of health issues: obesity, chronic inflammation, Type 2 diabetes, heart disease, even cancer.
To satisfy our sweet tooth, many of us turn to the fake stuff — artificial sweeteners. There are just five approved by the Food and Drug Administration for use in the United States: acesulfame potassium (sold as Sunett and Sweet One), aspartame (sold as Equal, Nutrasweet and Sugar Twin), neotame (sold as Newtame), saccharin (sold as Sweet'N Low, Sweet Twin and Necta Sweet) and sucralose (sold as Splenda). One more, cyclamate, is widely used in more than 100 countries, but banned in the United States.
Read more: http://www.cnn.com/2016/01/18/health/where-do-we-stand-artificial-sweeteners/index.html