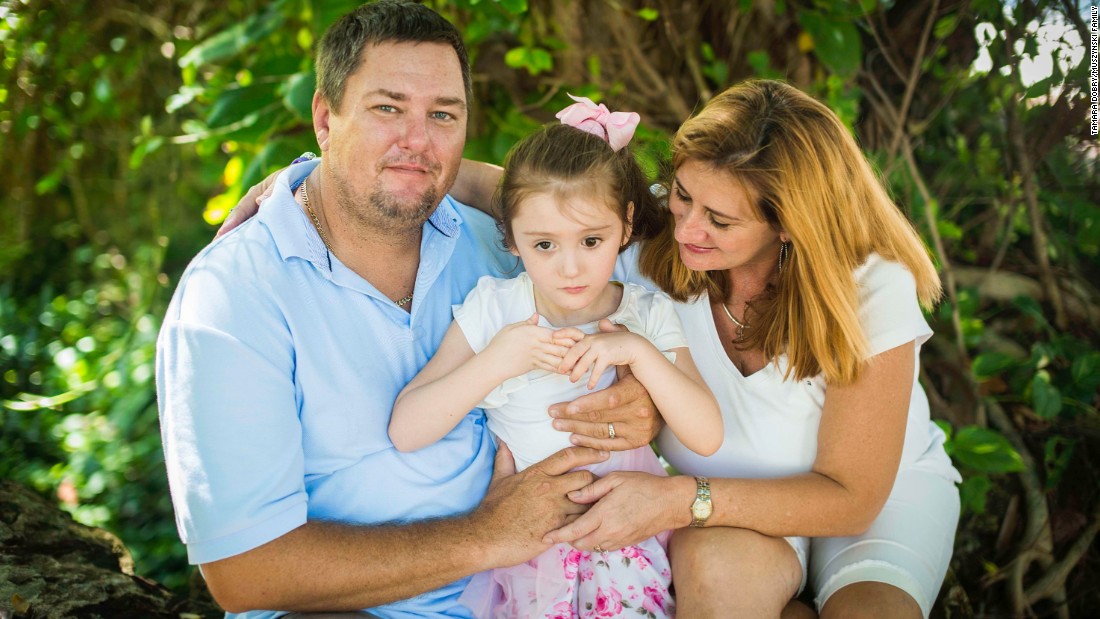 (CNN)Kim and Richard Muszynski love Florida. They love the beaches and the fishing and the beautiful weather and the Sunday afternoon barbecues with their large extended family.
Rich has lived in Florida all his life and Kim since she was 6 years old.
But in September, the couple left the Sunshine State. They packed their bags, took their 5-year-old daughter, Abby, and moved away.
They wept as they kissed their older daughters, Katlin, 22, and Christina, 16, goodbye, leaving Christina to finish the last half of high school without them. They wept again as they said goodbye to their parents and friends and Rich's job on a fishing boat and the only community they've ever known.
The Muszynskis say they fled Florida because they think Abby's health insurance was killing her.
Abby survived and was discharged from the hospital with a prescription for a higher dose of Diastat, the medicine that stops her seizures.
But when Rich went to the pharmacy that night to fill her prescription, the pharmacist said he couldn't give him the medicine because Abby had been kicked off Medicaid — again.
Rich called Kim at home. They couldn't believe this was happening again.
Kim, by her own description, went ballistic. She called Abby's case manager at
Medicaid and asked why it had cut off her daughter's insurance when she'd just nearly died. She threatened to sue the state.
Within a few days, Abby was put back on Medicaid. Kim said her case manager apologized, explaining that Abby was kicked off of Medicaid because of a computer glitch.
For months, Kim and Rich had been going back and forth on whether they should leave Florida.
"After she coded, I said, 'that's it.' I said, 'I'm done with Florida,' " Kim remembers.
It meant leaving a lifetime behind them, but the Muszynskis needed a place where their daughter could get the medical care she needed.
They knew where they would go: Colorado, for better Medicaid and medical marijuana.
Read more: http://www.cnn.com/2016/11/28/health/health-care-refugees-part-1/index.html