Democrat nominee flexes her executive might, taking the lid off a pickle jar to prove she is fit enough for the rigors of presidency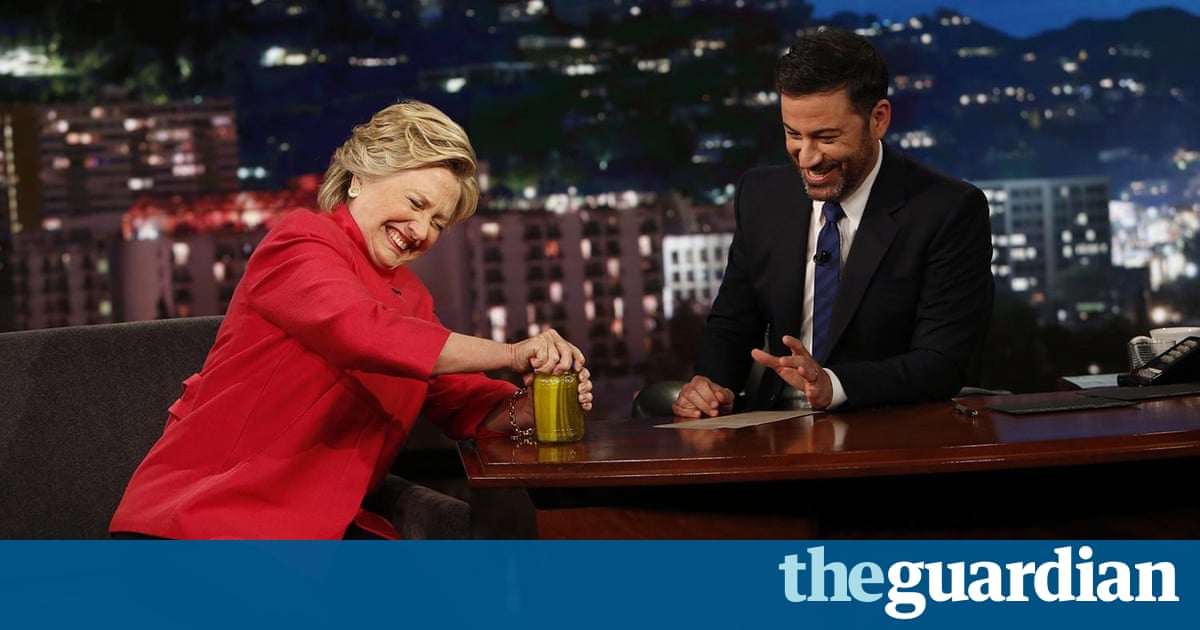 With a twist and and a pop, Hillary Clinton opened a pickle jar in an exaggerated show of physical strength, making light of recent speculation about her health.
Clinton, appearing on Jimmy Kimmel Live, laughed off questions raised by her Republican opponents about whether she has the strength and stamina to be commander in chief, dismissing them as part of the wacky strategy to undermine her candidacy.
I dont know why they are saying this, Clinton told Kimmel on Monday night.
I think on the one hand its part of the wacky strategy on the other hand it absolutely makes no sense. And I dont go around questioning Donald Trumps health. I mean, as far as I can tell hes healthy as a horse.
Physicians for both presidential candidates have declared them fit to run for office. Yet the former New York mayor Rudy Giuliani, a close adviser to the Republican nominee, reprised the health rumors last weekend, claiming without evidence that Clintons physical and mental health were deteriorating.
Back in October the National Enquirer said Id be dead in six months so with every breath I take I feel like its a new lease on life, said Clinton.
The rumors about Clintons health appear to stem from a 2012 incident when she sustained a head injury from a fall that was attributed to a stomach virus. She suffered a concussion and a subsequent blood clot in the brain, which later testing showed as having completely cleared.
Making her third appearance on the show since the launch of her campaign, Clinton also discussed the campaigns difficulty in finding someone to play the role of Donald Trump in debate prep.
Youve got to be prepared for wacky stuff. Im planning on drawing off my experiences from elementary school, she said, like the guy that pulled your ponytail. Kimmel suggested that actor Gary Busey might play a good Donald Trump.
Clinton told Kimmel that she would be distraught without FaceTime, which she uses to speak to her grandchildren from the campaign trail.
Have you considered using FaceTime instead of email? Kimmel joked, referring to the controversy over her use of a private email server while secretary of state.
I think thats actually really good advice, she replied.
Clinton said that at times it felt as if the presidential campaign has entered an alternative reality.
Im out here talking about all of this, Clinton said after running through a checklist of policies, and then I have to sort of step into the alternative reality, and, you know, answer questions about am I alive how much longer will I be alive and the like.
Read more: https://www.theguardian.com/us-news/2016/aug/23/hillary-clinton-on-jimmy-kimmel-opens-up-about-trumps-wacky-health-claims