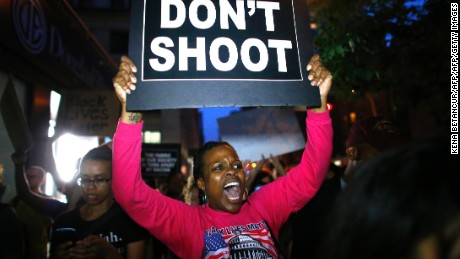 (CNN)As an African-American man, Dr. Georges Benjamin says he feels like "an endangered species," due to gun violence claiming the lives of men his color disproportionately to their numbers.
Benjamin is executive director of the American Public Health Association, and he has a message for the nation's top public health official, Dr. Thomas Frieden, director of the Centers for Disease Control: Stop your silence on guns.
Frieden has spoken, written and tweeted prolifically on a wide range of health and safety issues during his six-year tenure at the CDC, but he's kept
deafeningly silent on the issue of gun violence
, the second-biggest killer of young people in the United States.
Dr. Leana Wen, Baltimore's health commissioner,
has spoken out about gun violence
, but said she understands that Frieden, who heads up a high-profile federal agency with a multi-billion dollar budget, is in a different position.
"I can't even pretend to know the pressures that Dr. Frieden is under," she said.
Galea said it would help if Frieden lent his voice to the discussion, but understands why he doesn't.
"I well appreciate the political pressures that CDC must be facing on this issue and see CDC's not speaking out [as] more a reflection of the extraordinary success of special-interest groups who hold our political discussion hostage around guns, than I see it as a shortcoming of CDC," Galea wrote in an email to CNN.
CDC chased by "ghosts"?
That pressure from special interest groups — namely, the National Rifle Association — is at the heart of the experts' disagreement about whether Frieden should speak up or stay silent.
Congress has already taken away nearly all CDC funding for gun research. Such research "is fundamental to understanding the problem and developing scientifically sound solutions," according to a statement sent to CNN by CDC spokeswoman Erin Sykes.
Frieden's supporters say if he speaks up, Congress might shut down the entire CDC National Injury Prevention and Control Center. It's not a groundless idea — a small group of lawmakers threatened to do just that in the 1990s, but their efforts ultimately failed.
Black public health leaders question whether the CDC really needs to fear that Congress would shut down the Injury Prevention and Control Center, which funds research on car accidents, child abuse, prescription drug overdoses and other public health concerns.
"There's a ghost there, but I'm not sure it's real," Benjamin said, referring to the threat from more than 20 years ago.
And Jones agreed. "Dr. Frieden needs to call their bluff."
The leaders believe the good that might come from Frieden speaking up outweighs the risk that may or may not exist.
"We can't stop because of fear," said Apryl Jones, president of the American Public Health Association's Black Caucus of Health Workers. For her, the issue is more than theoretical.
"I'm a member of the AME (African Methodist Episcopal) church, and when our sister church in South Carolina was hit last year, my ministers knew their ministers. They were friends, and it gets intimate when your friends are hit," she said.
"When you see your community affected and you're the one in position to speak up and take action, that's when it hits home."
Read more: http://www.cnn.com/2016/07/13/health/cdc-gun-research-black-health-leaders/index.html