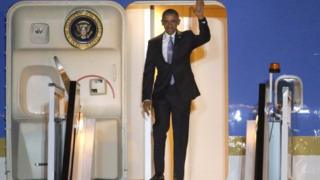 US president Barack Obama has arrived in the UK for a three-day visit.
During his stay the president is expected to give his views on the UK's forthcoming EU referendum, and advise voters to remain in the union.
He and First Lady Michelle Obama are due to have lunch with the Queen at Windsor on Friday, and dinner with the Duke and Duchess of Cambridge.
Mr Obama will also speak at a news conference with Prime Minister David Cameron.
His UK stay is part of a tour which also includes a visit to Germany and Saudi Arabia – from where he has just left after having discussions with King Salman on issues including Iran, Syria, Yemen and the fight against so-called Islamic State militants.
'Hypocrisy'
In the UK, debate has circulated over the president's views on the forthcoming EU referendum, due to take place on 23 June.
Mr Obama's national security adviser Ben Rhodes told reporters in the US before the trip: "As the president has said, we support a strong United Kingdom in the European Union."
But last week Boris Johnson accused Mr Obama of "hypocrisy" over his support for such an outcome.
The London mayor said everything about the history of the US suggested they would never share sovereignty.
"I don't know what he is going to say but, if that is the American argument then it is nakedly hypocritical. The Americans would never dream of it," he told the BBC.
During his visit the US leader will also dine with the Queen in Kensington Palace.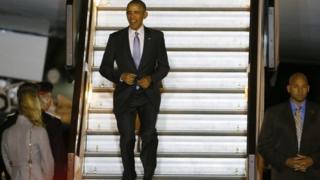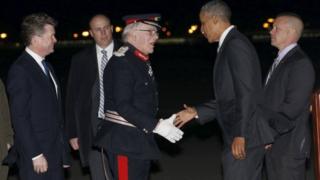 Mr Obama arrived at Stansted Airport and was greeted by the the Lord Lieutenant of Essex, John Petre, and the US Ambassador to the UK, Matthew Barzun.
The Obamas previously met the Queen, Prince Philip and the Duke and Duchess of Cambridge during their state visit in 2011.