WASHINGTON U.S. health care spending grew faster last year as the Obamacare coverage expansion spread, and a variety of factors suggest the pace will accelerate over the next decade, according to projections published by federal auditors Wednesday.
But the uptick in year-to-year spending growth doesn't portend a return to the even bigger annual increases seen during the two decades before the Great Recession and the enactment of the Affordable Care Act, according to an article in the journal Health Affairs written by the Office of the Actuary, an independent body within the federal Centers for Medicare and Medicaid Services.
Total health expenditures by the government, businesses and households reached $3.2 trillion in 2015, a 5.5 percent increase from the year before.That's 1.3 percentage points faster than the rise in gross domestic product, so health care grew as a share of the U.S. economy to 17.8 percent.
The rate of increase will slow this year, then pick up in future years, averaging 5.8 percent annually between 2015 and 2025, when health care will constitute one-fifth of GDP. These figures are projections; the final tally of actual 2015 spending will be released later this year.
What these numbers don't settle is how the Affordable Care Act is influencing these trends in health care spending, which remains a subject of dispute among health care experts.
Obamacare's enactment coincided with a historic slowdown in health spending growth, and the new report predicts inflation in this sector will remain well below the nearly 8 percent average annual increases seen in the 20 years before 2007.
Health care spending is now expected to be $2.6 trillion lower through 2019 than projected before Obamacare became law despite a big boost in spending because of coverage expansion from the law, which extended health benefits to an estimated 20 million people and cut the uninsured rate to a record low. Health care spending rose an average of 4.4 percent a year from 2008 to 2014.
A meaningful part of the slowdown is due to the Affordable Care Act. Jason Furman, chairman of the White House Council of Economic Advisers
President Barack Obama and his administration like to claim partial credit for the slowdown in recent years and for what they perceive to be structural changes to how health care is delivered and financed, which they maintain is a consequence of the Affordable Care Act. Obama made this case himself in a Journal of the American Medical Association article published this week featuring his assessment of the ACA.
Economists haven't formed a consensus about what if any effect Obamacare has had on the pace of health care spending growth, and the Office of the Actuary consistently has contended that the recession and slow recovery were the primary causes of the shift toward slower increases.
White House Council of Economic Advisers Chairman Jason Furman rejected that analysis. "In 2014, I thought the arguments that this was a result of the economy were overstated," he said. "By 2016, they've, you know, become sort of borderline absurd as a dominant explanation."
"Part of it is luck and part of it is a structural change, and you would expect the structural change to be something that persists. So I think a meaningful part of the slowdown is due to the Affordable Care Act," Furman said during a briefing with reporters about Obama's article last week.
The Office of the Actuary doesn't deny the impact of the Affordable Care Act on national health spending, of course. The data reflect increased spending for the coverage expansion, as well as reduced spending on Medicare payments to health care providers, for example. The spending projections also factor in trends accelerated by the ACA, such as rising deductibles and narrower networks of medical providers in private health insurance, which tend to decrease spending.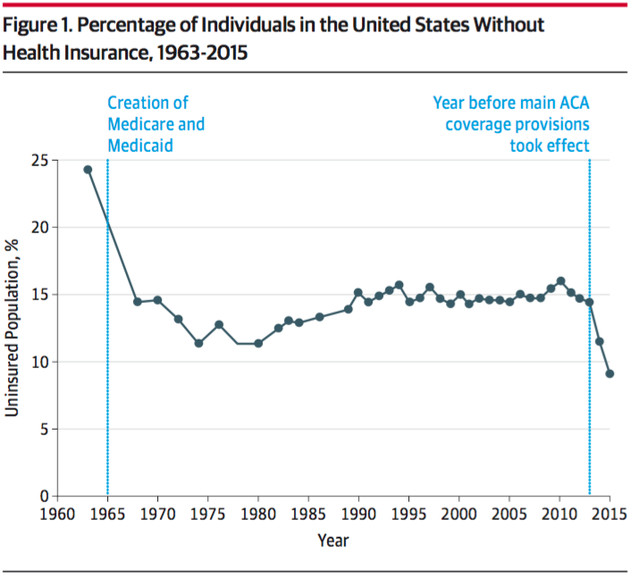 But analysts are cautious about linking historical and projected data to cost-containment initiatives such as shrinking the number of patients who must return to hospitals to be retreated, or shifting Medicare payments away from fees for individual services and toward models that pay flat amounts for full courses of treatment or link payments to quality.
"It's something that we're cognizant of but not something that we're able to quantitatively speak to at the moment," John Poisal, deputy director of National Health Statistics Group at the Office of the Actuary, said during a conference call with reporters Wednesday. "A lot of these things are sort of still new."
Based on what the Office of the Actuary does measure, analysts expect the main causes of higher health care spending over the next decade to be faster economic growth, a rise in the prices for medical care after several years of slow increases, and an aging population leading to higher Medicare and Medicaid spending. The report projects that national health expenditures in 2025 will be $5.6 trillion, or 20.1 percent of gross domestic product.
Read more: http://www.huffingtonpost.com/entry/america-spent-more-than-3-trillion-on-health-care-last-year_us_57868091e4b08608d332956a?section=